I am joining one of my favorite bloggers, Tessa from
Tales from Outside the Classroom
and joining her
Linking Up With Love
linky party!
Bloggers I'm Loving
You already know that Tessa is one of my BFB's (Best Friend in Blogging!!) but I have a couple more, as well!
Another one of my BFB's is Jessica from
Mrs. Stanford's Class
! She makes the cutest products, papers, and fonts! And she is just about the sweetest person ever!! I hope I get to meet her IRL one day!
Another blogger I love is Jen Ross from The Teacher's Cauldron. She also teaches 2nd grade and her products are sooooo amazing! She helps me out in my classroom almost daily, and doesn't even know it! I'm obsessed with her Numbers Every Day product and use her stuff all the time!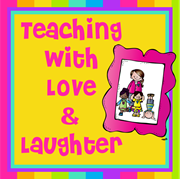 Another blogger who I am loving right now is the one and only Lori from
Teaching With Love and Laughter
! She teaches a continuous K-2 loop, so her products are so perfect for primary, since she has used each and every one of them in her classroom! She is so sweet, but not only that, she is truly an expert teacher with years of experience to back her up! She is one of my go-to gals for writing, phonics, and grammar lessons! I just love her blog and shop!
I couldn't leave out my gal,
Missy Squirrels
! She cracks me up on a daily basis! Between her sarcasm, wit, and adorable classroom, we were destined to be friends This is another blogger that I hope to meet IRL soon!
Things I'm Loving
Since I live on an island with not many stores, I have become the queen of online shopping. One of my favorite places to save money online is
Ebates
! All you do is go to the Ebates website, find the store you want to shop in, go to the shop through their link, and Ebates will send you a percentage of your bill back! For example, I needed new Bare Minerals foundation (all this sun is making my skin tan - yay!). I went to Ebates, searched for Sephora, clicked through to Sephora through the Ebates website, and Ebates added 8% of my bill to my Cash Back account! They send out checks for cash back once a quarter. It is soooo worth it! You can even use coupon codes in the actual store's website to save even more! Now, who doesn't love saving money? Huh?
Products I'm Loving
I haven't gotten around to making any Valentine's products yet, but I am really loving my new
Mac and PC Keyboard Shortcut
products!
As for Valentine's Day, I currently have this unit in my TpT cart. I love all of April from
A Modern Teacher
's holiday packs. They are sooooo much fun!
That's it! Head on over to
Tessa's blog
to see what everyone else loves and maybe even link up yourself!
What are you loving right now?