This is Melissa from Dilly Dabbles and I'm excited to participate in the Blog Swap and Hop. This week, I had the opportunity to attend a week long class our state sponsors called "Core Academy." The focus is on supporting teachers in knowing and teaching the core successfully. In the past, these summer sessions that are presented throughout the state in various locations all summer have been focused on lesson plans and activities that are shared and discussed. This year, the focus was on deeply understanding the Mathematics Common Core and teaching concepts through the use of math tasks. I have learned a lot through the instruction of the class and through my own research due to the desire to know more.
What are Math Tasks?
Math Tasks are open ended scenarios that give minimal information so students can focus on the thinking and reasoning of the task. Three parts are included in the full circle of a task including Launching, Exploring and Discussing.
Dan Meyer is a secondary math educator, but has a lot of useful information that can be applied to elementary educators as well. Here's a link to his 10 design principles for Math Tasks. Here's a great video of a presentation by Dan as well that helps give perspective on the concept.
As Dan mentions, use your current resources to help you create math tasks for your class. Simply adjust problems in your current materials so they are more thought provoking and less structured.
Here's an example of a math task you might use in a first grade classroom. (Based on 1.OA.1).
How much candy do Sue and Bill each have? Together, they have no more than 10 pieces of candy and Sue has 2 more than Bill.
This question allows students to try various strategies and plans to discover an answer. It allows for students to have varying answers because the answer is not as important as the process and conversation.
To follow the three steps, start by launching the problem with your students. Set them up with a picture or a discussion to build background. Then allow students to explore the problem on their own first for a few minutes. Then allow for some partner or small group sharing and discussion. As you monitor the classroom, notice what strategies and pathways students are engaging in to solve the problem. Choose a few students to share their thinking and solutions with the class.
The use of these engaging tasks in your math teaching will support students in understanding the concepts behind the math. Students become thinkers instead of path followers. Now I'm not a believer in tasks alone. Tasks and the thinking they involve lead students to the algorithms and "short-cuts" which are much more efficient. However, having the conceptual understanding helps students retain and use the efficient processes accurately with understanding.
To celebrate this special Blog Swap and Hop, I have this set of B-B-Q themed Math Tasks for grades 1-3. There is one task for each grade based on the Operations and Algebraic Thinking Strand of the Common Core.
Thanks to Nicole for allowing me to guest here at Teaching With Style!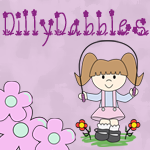 ~Melissa has been an elementary school teacher in several grades for the last 8 years, most recently teaching first grade. She just moved positions to support teachers as an instructional coach concentrating on K-3 reading. Melissa is the owner and writer of the Dilly Dabbles blog at
http://www.dilly-dabbles.com/
and owner of Dilly Dabbles Doodles at
http://www.dillydabblesdoodles.com/. ~