If you've been following me for awhile, then you know how much I love The Sisters, Gail Boushey and Joan Moser. I saw them present two years ago for The Daily 5 and last year for The CAFE Book. I've visited two different schools in my area who have adopted The Daily 5 and CAFE school-wide and have led workshops at my school to introduce my colleagues to it. I am passionate about spreading the wisdom of The Sisters!
The first thing my principal did last year for interested staff was buy a copy of the book for each of us. He also bought a subscription to
www.thedailycafe.com
. It's spendy at $69 for a year per person, but it seriously has been so great. They have lesson plans for each of the CAFE strategies, parent letters, videos that show how to teach whole group lessons, small group lessons, and even coaching sessions with teachers. There are professional articles and research, ideas for organizing your classroom, and even a new forums section. If you want to see what it's all about, subscribe to their weekly newsletter, called
Tip of the Week
. It has links that are free to the public and you can browse the titles of links for members only. I got by for a whole year with just the free newsletter before I took the plunge and bought a subscription.
Another way I get support for Daily 5 is by joining the
Yahoo Group
. It's a great community of teachers who use the Daily 5 and CAFE in their classrooms. If you have a question, go ahead and post it to the group. People are great about responding quickly. It has been really helpful! I get the posts to my email, which is nice, because sometimes someone else's question is information I needed as well, but just hadn't thought to ask the question myself.
Pinterest
is another resources to find ideas for the Daily 5. I have a board called
Teaching - Daily 5/CAFE ideas
. There are 182 pins and counting! The other bloggers in this book study and I also have a collaborative board, started by Mel D of Seusstastic Classroom Inspirations. Make sure to
follow us there
, too!
The last resource I have to share with you is
ProTeacher
. This site has been around for years and has great information about all things teaching. Last summer I found an invaluable resource:
Daily 5 for Dummies
. It sounds bad, but really it is a user-friendly lesson plan for implementing the Daily 5 in your classroom. I used it at the beginning of last year and it really helped me plan how I was going to introduce each concept and gave a really nice pacing guide. I recommend checking it out!
On to the book....
Chapter 1 opens up with a quote from Regie Routman (another educational guru I adore):
"The typical teacher has children doing a lot of "stuff". How is what I am having children do creating readers and writers?"
Me, Regie, and my friend Pat at a conference this spring
The premise of the Daily 5 is that children are engaged in authentic reading activities while they are not meeting with the teacher. The Daily 5 has nothing to do with what you do as a teacher (whether you teach guided reading, a scripted program, focus groups, literature circles, one on one conferring, etc); it has everything to do with what your students are doing. The first page of the chapter, The Sisters say, "All of these items [things children did during literacy time], and many more, were used to keep children busy while we attempted, none too successfully, to work with a few small groups and individuals.... For the hundredth time we asked ourselves did those things just keep our kids busy, or were they engaged in literacy tasks that will make a difference in their literate lives?" (page 4).
"The work that children do in school does matter. There is probably no better measure of what children learn than an analysis of the kinds of tasks they are given. If we fill their days with an array of assignments that require them primarily to locate and remember discrete bits of information, abstract rules, and isolated skills, we should not be surprised to find they experience difficulty when asked to complete work that would require evaluating, summarizing, contrasting, discussing, composing, enacting, or responding."
When I read that quote, I immediately thought of the Daily 5: Read to Self, Read to Someone, Listen to Reading, Work on Writing, and Word Work. It doesn't say Cross Word Puzzles, Word Finds, Workbooks, or Matching Centers. Children need to be practicing real reading in order to get better at real reading. It makes sense, right?
I love Figure 1-1 Management: How We Have Evolved. I can definitely relate to how I felt as a new teacher, not aware that students couldn't do something after the very first time I asked them. One of the most powerful quotes for me was, "We wanted to change the atmosphere in our classroom and our own roles, from trying to 'manage' students, rushing around the room putting out fires, to creating routines and procedures that fostered independent literacy behaviors that were ingrained to the point of being habits," (page 9). Isn't that what we all want?
Figure 1-4 The Daily Five Literacy Block gives us an example of how you would structure your lessons between whole group, small group, and independent work. Here is
another version
of that from another district in Oregon.
When you think about your classroom, is yours more like the first scenario in the chapter, the second, or somewhere in the middle? Do you want to spend more time in meaningful conversations with students about reading and less time trying to get students to follow directions?
Grab
my little freebie
and start thinking about the habits you are ready to let go of as you join our journey through The Daily 5! Link up your blog with thoughts about the Daily 5, or comment below and tell me your ideas! I'll be back next Wednesday, June 20th, with Chapter 2!
Make sure to head on over to
Mel D's blog
to see her thoughts about chapter 1, as well!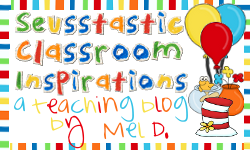 Don't forget to stop by the
Kindergarten Book Study
And also the
Upper Elementary Book Study