I just love learning new things from other bloggers. The teacher blog community is seriously the best! One of my favorite bloggers, Lindsey from The Teacher Wife, has a new blog:
Teacher Blogging Basics
. Lindsey is so good at design elements, she even designed her own blog! So far, she has 6 posts with tutorials for starting a new blog in blogger, creating a blog button (where was THAT when I first started??) and also creating a banner for your TpT store and creating a hyperlink in your product descriptions.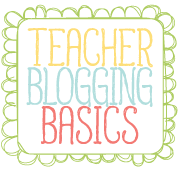 Sounds awesome, right? If you look to the right side of my blog, you will see a new little arrow. That will scroll all the way back to the top of the page. Pretty cool! Check out the tutorial for it
here.
Now, head on over to
Teacher Blogging Basics
and learn something new for yourself! What project are you excited about starting to dress up your blog or TpT store?